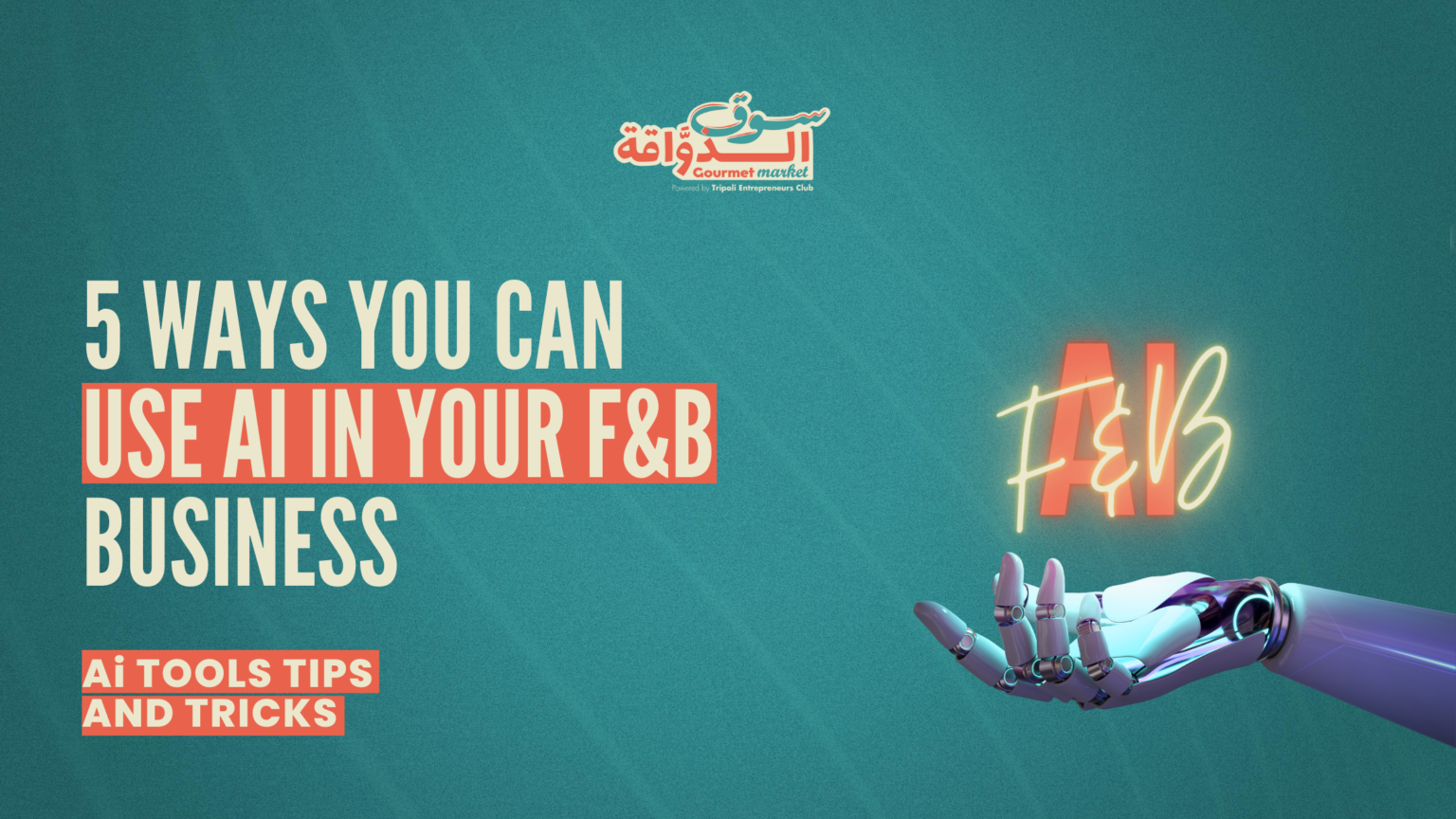 There is no doubt that artificial intelligence is becoming more prevalent in our lives on a daily basis, and the food and beverage industry is taking significant steps to reap the benefits of incorporating AI into its operations. In this blog, we will look at how the food and beverage industry is incorporating artificial intelligence into many business processes, as well as how AI services compare to traditional expert services.
✤ Ai in the F&B industry:
Improving operations, improving services, lowering costs, and saving time on research were the primary motivators for many F&B large businesses to invest in AI in a variety of ways:
1. Personalize Customers' experience:
To estimate trends and demand for specific items, AI algorithms have been used to evaluate consumer data. McDonald's has spent $300 million on Dynamic Yield, an artificial intelligence start-up, to target consumers' tastes and personalize their experiences and orders. This company has built technology focused on logical decisions, which personalizes products based on previous selections by customers.
2. Quality control and food safety (Nestle):
Artificial intelligence has been used to monitor and analyze data from a variety of sources in order to identify potential threats to food safety and prevent epidemics.
Nestle has used artificial intelligence-powered sensors and cameras to monitor the production of its products, from raw materials to finished products. The sensors and cameras are placed throughout the production line to detect any defects or inconsistencies in real-time, allowing Nestle to address issues quickly and prevent contaminated products from reaching consumers.
3. Supply Chain Optimization (Nestle):
AI has been used to improve the supply chain by predicting potential problems and recommending the best routes for delivery and transportation.
Nestle has created a digital platform called "Harvest" that employs artificial intelligence to analyze data from various sources, such as weather forecasts and satellite imagery, in order to monitor and predict potential food safety risks in its supply chain.
4. Chatbots and Customer Service:
Several food and beverage companies use AI-powered chatbots and virtual assistants to answer customer questions and make recommendations.
According to Starbucks, the My Starbucks Barista AI chatbot software in the Starbucks app allows voice ordering, supports a human voice, accepts payment via gift or credit card, and suggests which local nearby locations a consumer can pick up their items.
5. Recipe Optimization (McCormick):
AI algorithms may analyze ingredients and recipes to develop new flavor combinations and improve old recipes for cost, taste, and nutritional value, McCormick has developed an AI-powered platform called "ONE" to evaluate dietary trends, customer preferences, and ingredient combinations to develop new flavor combinations and improve existing recipes.
To see how accurate, original, and tasty the AI's recipes are, we asked ChatGPT for an original chocolate chip recipe, and here was the result:
Ingredients:
2 1/4 cups all-purpose flour
1 tsp baking soda
1 tsp salt
1 cup unsalted butter, at room temperature
3/4 cup white granulated sugar
3/4 cup brown sugar, packed
2 large eggs
2 tsp vanilla extract
2 cups semisweet chocolate chips
Instructions:
Preheat the oven to 375°F (190°C) and line a baking sheet with parchment paper.
Whisk together the flour, baking soda, and salt in a medium bowl.
In a large bowl, cream the butter, white sugar, and brown sugar together until light and fluffy, about 2-3 minutes.
Add the eggs, one at a time, beating well after each addition.
Stir in the vanilla extract. Gradually mix in the flour mixture until just combined.
Fold in the chocolate chips. Drop rounded balls of dough onto the prepared baking sheet using a cookie scoop or spoon.
Bake for 10-12 minutes, or until the edges are golden brown and the centers are set.
Allow the cookies to cool on the baking sheet for 5 minutes before transferring them to a wire rack to cool completely.
To see how tasty and successful this recipe is, we contacted a dessert expert, chef Dania Haj Ali, the owner of The Baking Room, who gave us a comprehensive review of these AI recipes.
Dania Haj Ali said: "According to my several years of experience as a sweets chef, I see that this recipe is excellent, there is no missed ingredient, no wrong steps, and all the instructions are clear and in a logical order. AI did a great job generating this recipe".
Because the chocolate chip original cookies are a simple recipe, we decided to raise the difficulty level of the chatGPT challenge by requesting a more complicated recipe that requires more steps and special ingredients, and here is the recipe for New York style Cheesecake:
Ingredients:
1 1/2 cups graham cracker crumbs
1/4 cup granulated sugar
1/2 cup of melted unsalted butter
900g of soft cream cheese
1 1/2 cups granulated sugar
4 large eggs
1 cup sour cream
2 tsp vanilla extract
1/4 cup all-purpose flour
1/4 tsp salt
Instructions:
Preheat your oven to 325°F (160°C). Grease a 9-inch springform pan with cooking spray or butter.
Mix the graham cracker crumbs, 1/4 cup granulated sugar, and melted butter in a medium bowl until well combined.
Press the mixture firmly onto the bottom of the prepared pan.
In a large mixing bowl, beat the cream cheese until smooth and creamy.
Gradually add 1 1/2 cups granulated sugar and beat until well combined.
Add the eggs, one at a time, mixing well after each addition.
Stir in the sour cream, vanilla extract, flour, and salt until just combined.
Pour the mixture into the prepared crust and smooth the top with a spatula.
Bake the cheesecake for 1 hour and 15 minutes or until the center is almost set.
Turn off the oven and let the cheesecake cool inside the oven for about 30 minutes.
Remove the cheesecake from the oven and let it cool completely at room temperature.
Once cooled, refrigerate for at least 4 hours or overnight.
When ready to serve, remove the cheesecake from the pan and slice it into desired portions.
Dania Haj Ali: "Even though it was a more complicated recipe, ChatGPT successfully provided us with another recipe, all the steps of this recipe are logical, and completed; there are no missed ingredients."
 AI is becoming more prevalent in our lives on a daily basis; there is no doubt that AI has saved millions of hours and provided numerous services to millions of people, including you! What do you think? Is Ai going to replace chefs?
Don't forget to subscribe to our website and enable the notification tab to stay ahead of your competitors and improve your business.