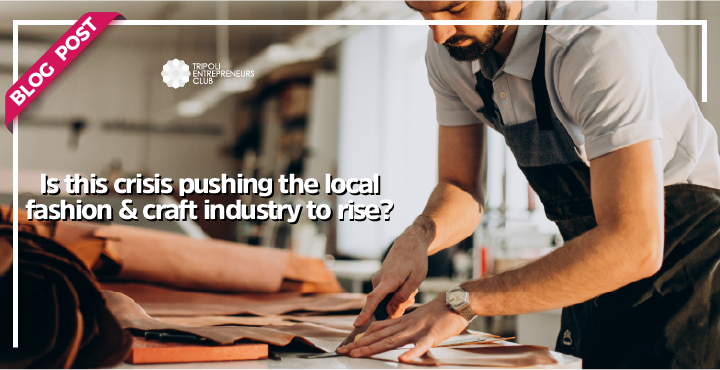 Fashion & Craft businesses have taken a lot of punches from the challenging circumstances that have transpired in Lebanon this past year. The devaluation of the LBP currency caused a major inflation in prices. As this industry is heavily reliant on imported products, it became too expensive for consumers to afford certain products, making it difficult for businesses to make a steady profit.
Frequent COVID lockdowns have also put a lot of strain on local businesses causing them to continuously shut down their physical shops.  
These changes in market and consumer behavior have influenced the rise of new online businesses in the Fashion & Craft industry that are reliant on local production.
As an accelerator/ incubator, we often work with hundreds of businesses annually as part of our Business Empowerment Unit. This year we noticed that while many businesses in this industry were hit quite hard by the crisis, others were able to emerge by building a business model compliant with Lebanon's conditions, placing themselves in unique and opportune situations.
While many in this industry were still importing foreign production and relying on their physical shops, other emerging businesses found it less costly to run their operations online and rely on local production while still offering products at competitive quality.
Here are some examples of emerging Fashion & Craft businesses taking part in our Business Empowerment Unit, that have taken an opportune approach in running their business during this crisis.
Located in Tripoli and operating online, Anbar Concept offers basic tailoring services in addition to ready-to-wear and custom-made clothes. Anbar Concept recruits local female tailors with the aim of empowering women. They also support local designers by offering them the chance to display their designs in their showroom.
Asante is a Tripoli based business that designs and makes signature handbags that feature "architecture in motion". Nuhad Sheikh founder and designer of Asante prides herself on the fact that Asante is a brand created by women, for women of style. In addition to empowering women, Asante provides a social contribution by donating 10% of their profits to local NGOs each time one of their handbags are sold.
As a fashion-based business that offers locally produced unique clothes, what makes Emergency Room stand out is its business model of refurbishing and redesigning secondhand clothes and selling them. Like the previous fashion businesses mentioned, Emergency Room also make sure to employ female tailors as a way of providing opportunities for women in Lebanon.
H-shirt is a Lebanese street-brand that offers fashionable, high quality, and Arab cultural-related clothing at affordable prices. Their brand focuses on embracing Arab youthfulness and reflecting your personality by being able to customize your own pieces of clothing. The customization takes place through their online platform for designers and customers.
Malak Sultan Al-Terkawi is a recycling advocate who, for that same reason started BRIO. BRIO makes Eco-friendly reusable bags, made of 100% biodegradable materials. The bags are characterized by their ergonomic, foldable, and sturdy shape. The purpose of these bags is to reduce the enormous consumption of single-use plastic bags and raise awareness towards saving marine life.
Be creative by Remi it's an online shop for customized wooden gifts. They save memories for all your occasions by creating personalized handmade wooden items. Remi Kadi, The Founder, is a creative craftswoman that has collaborated with her father, a traditional carpenter, to create these wooden handmade gadgets and crafts.
JEE is a new line of Handmade Bags designed and crafted by the Lebanese designer Jeanine Ojeil. Jeanine is passionate about Handmade work, Fashion, and Art. Her Handbags are the outcome of her passion, detailed craftsmanship, and elegant touch.
Each bag is made delicately from natural wood and genuine leather forming a line of high end quality and unique bags. A JEE bag is considered more as an art piece as each handmade bag takes 10 to 14 days of work and preparation.
How has our Business Empowerment Unit helped these local businesses?​
It wasn't enough for these businesses to manage through the crisis. Like any successful business, growth was the next logical step. This is where our Business Empowerment Unit came into place. By scaling their business models and preparing them to access new markets, we aim at turning these micro-businesses into recognizable and well-established brands.
Do you recognize any of these local businesses? Make sure to show your support and give them a follow. 
If you're a local business in North Lebanon looking for support during this crisis, learn more about our Business Empowerment Unit.